Biography
Jim Stubblefield was born and raised in Pasadena, California. He started taking acoustic guitar lessons when he was eight-years-old and especially enjoyed playing songs by The Beatles. In high school he became enamored with British progressive rock bands such as Yes and Genesis, and heavy metal groups (Iron Maiden, Judas Priest), and at 17 started playing electric guitar. But Stubblefield also enjoyed the jazz-fusion stylings of guitarists such as Al Di Meola ("His blending of world-fusion and Latin-rock with improvisation was a huge influence"), John McLaughlin and Pat Metheny.                            
While attending the University of Redlands in Southern California, where he earned BA Degrees in both English and History, he played in a rock band that performed the hits of that era (INXS, U2, Duran Duran, The Cure). In addition, Stubblefield took music classes and jazz guitar lessons. After college he worked at the popular television show Entertainment Tonight for a year in the research department, but was pulled back to music. He quit his job, took an intensive one-year program at the Musicians Institute in Hollywood while interning at a record label and assistant engineering at a recording studio.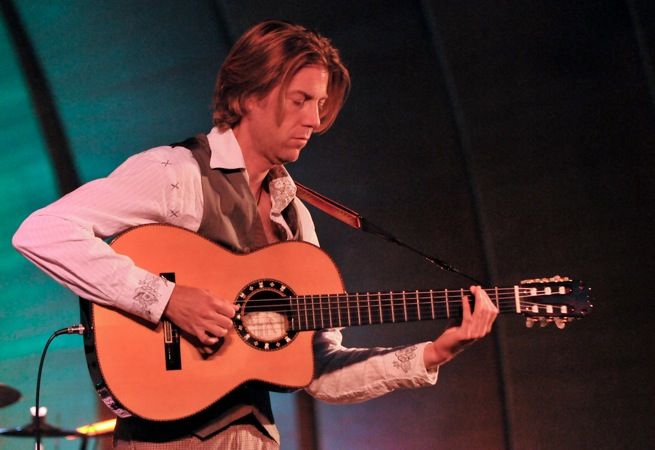 In 1993 Stubblefield met Waleed Hamad from Kuwait, who played oud (a fretless Mid-Eastern lute) and who had performed with Ben Harper. Stubblefield and Hamad formed a duo, wrote their own material, and began gigging around Southern California. Stubblefield, now back on acoustic steel-string guitar, began absorbing the world music sounds of acts such as Shakti, Strunz & Farah, Paco de Lucia and artists from India and Greece. "Audiences loved our sound and I realized there is a market for world-fusion music." In 1994 Stubblefield recorded and released his first album. In 1995 he switched to nylon-string Spanish-style guitar as his primary instrument. "I loved the sound and I knew I needed to put my energy into it." His third album, Rhythm of the Heart, was nominated as "Acoustic Album of the Year" by New Age Voice. His music also appeared on Neurodisc/Priority Record's compilation CD Pure Flamenco: Nuevo Flamenco Passion.
In late 1999 Stubblefield co-founded the Latin guitar oriented world music group Incendio with bassist Liza Carbe and guitarist Jean-Pierre Durand. They soon became a best-selling recording act, a popular concert attraction, and a group whose albums hit the Billboard, NAV and CMJ charts.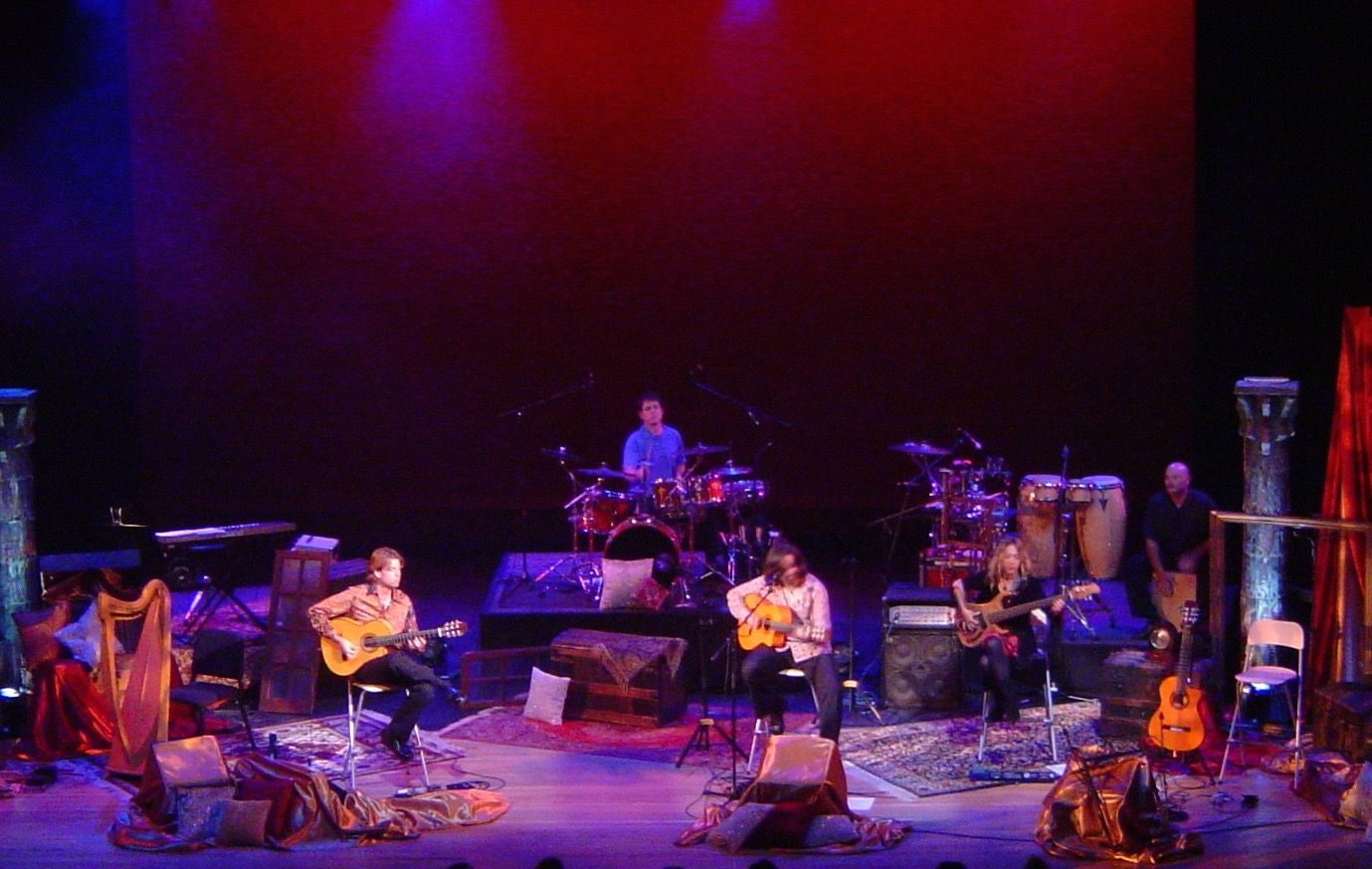 "Once Incendio got rolling I realized my solo projects were perfect opportunities for me to explore different directions musically. My solo career is a counter-balance to the group. My solo albums have been fairly diverse. I sort of stated my mission with the title of Guitarra Exotica in 2007 because I wanted my guitar to sound exotic but not tied necessarily to one style or culture. That album has some similarities to Encantado because on both I featured Novi Novog playing the viola as a main instrument on many of the tunes, with Randy Tico contributing a lot of fretless bass. Then Inspiracion in 2010 was completely different because it was a very stripped-down recording with just me on Spanish guitar, Randy on fretless bass and Bryan Brock on percussion. On Encantado and Guitare Mystique I purposely went in a different direction with a big sound, full production, a variety of compositional styles, a blend of influences, and exciting interplay between the musicians."
According to Stubblefield, "My solo recordings are my personal vision, generally experimenting within the world-fusion genre, but not always strictly Latin. I take a little more of a cinematic approach on some pieces. Groups like Led Zeppelin demonstrated to me that it's okay to have some pretty diverse music on each album."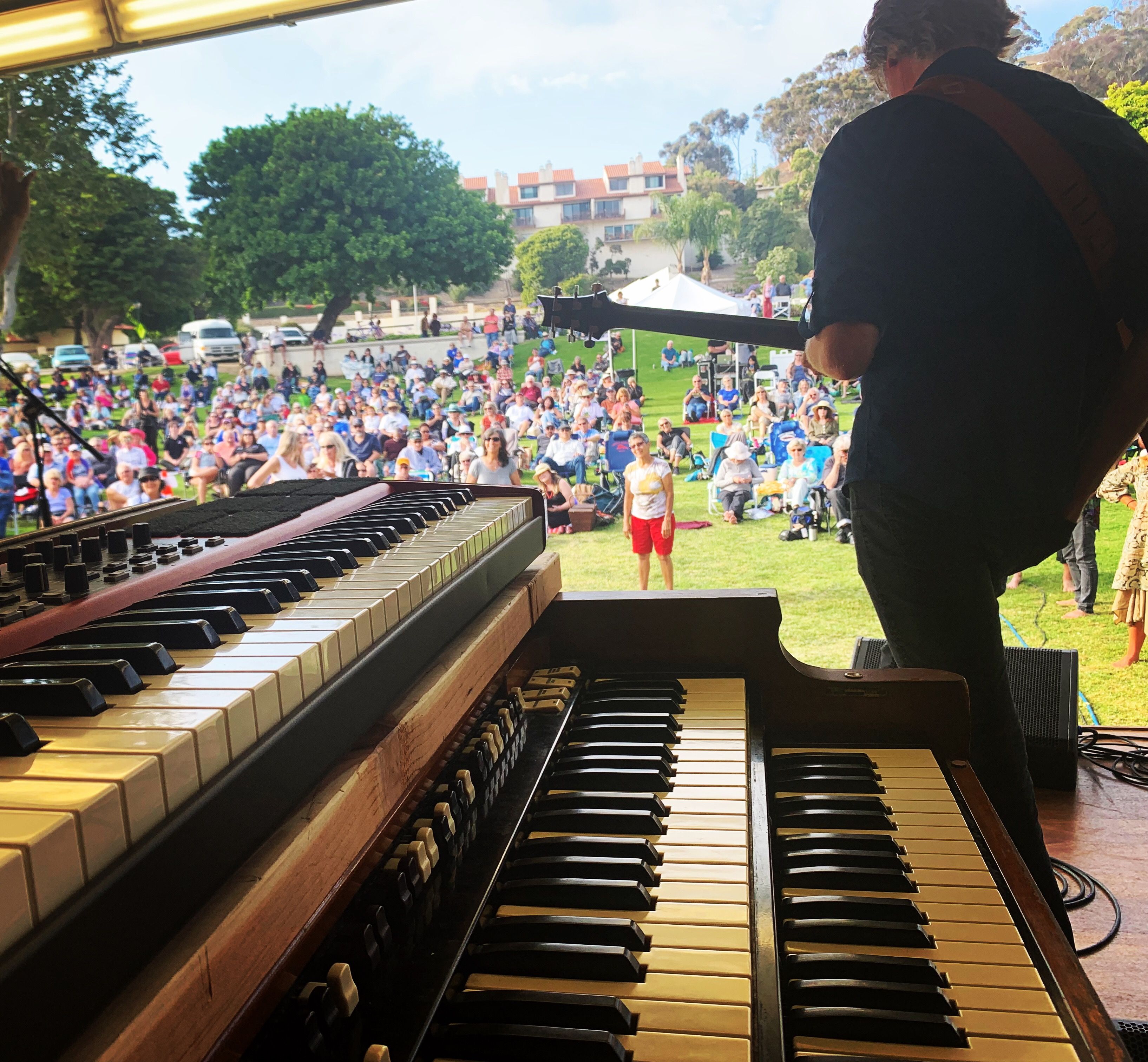 AWARDS
 "Encantado" nominated for "Best World Album" (Zone Music Reporter, 2015)
"Encantado" nominated for "Acoustic Instrumental Album of the Year" (One World Music UK, 2015)
"Encantado" nominated for "Album of the Year" (One World Music UK, 2015)
"Guitare Mystique" nominated for "Best World Album" (Zone Music Reporter, 2017)
"Guitare Mystique" winner for "Acoustic Instrumental Album of the Year" (One World Music UK, 2017) 
CRITICAL PRAISE
 "Jim is a fantastic player and a great person." 
- Ardeshir Farah (Strunz & Farah)
"Encantado" is filled with the kind of fiery runs whch are the trademark of Al Di Meola or Paco de Lucia. The latin-infused passion of his playing is authentic, not at all contrived in contrast to the polished, perfect production. I would challenge any smug detractor to duplicate Stubblefield's playing - that smugness would quickly evaporate."

- Minor 7th
"Jim pulls off burning runs on his nylon strung guitar, though his sense of taste always overrides his mind-boggling technique."
- Acoustic  Magazine 
"Just gotta tell you, I'm loving your Encantado album! I always listen on my drives home from my gigs. Great songs and beautiful playing/recording."
- Ben Woods 
 
"What a great pleasure it is to listen to [Encantado]. I have been an admirer of Stubblefield's work with the brilliant Incendio for years and on this solo effort he shows us that he is the true master of the guitar, we always knew he was."
- Steve Shepperd (One World Music UK)
 
"Obviously with this talent the music is exceptional. But the other thing you should know is that this is not just another run-of-the-mill nouveau flamenco recording like dozens of others you might have heard."
- Buzz Music
"Encantado - A high-octane winner throughout, this is first class armchair traveler listening with a good time sure to be had by all. Check it out."
- Midwest Record Recap 
"Jim Stubblefield could make any gear sound good. But glad his FELiX helps."
- Grace Design
 
"The incredible Jim Stubblefield did it again, full surprise, what a pleasure to see my name on few CDs, and be a part of this World class Music, thanx buddy a million."
- Carlos Juan Amplification
 
"Two thumbs up for Encantado!"
- Lawson Rollins 
 
"Treat yourself to yet another excellent display of the musical terrain of Latin & World beauty.  Encantado is an A+ effort."
– Ronald Jackson (Smooth Jazz Ride) 
"With its stunning crossection of Nuevo-flamenco, World Beat jazz, neo-classical guitar sounds and superb recording techniques, Encantado is Jim Stubblefield's best solo album yet and is one of the most intriguing guitar recordings of 2015." 
- Robert Silverstein (MWE3) 
"I just received your latest album Encantado - And I'm Hooked! It's just a superb album ...filled with so many musical delights! Music that takes you on so many Journey's.....Its simply sensational!"
- Paul Mac (Phase Radio - Sydney Australia) 
DISCOGRAPHY 
 JIM STUBBLEFIELD SOLO:
November (Natural Elements Records, 1994)
Cities of Gold (Natural Elements Records, 1997) 
Andalusian Dream - Single (Natural Elements Records, 1999)
Guitarra Exotica (Natural Elements Records, 2007) 
Inspiracion (Natural Elements Records, 2010)
Reaching for Infinity - Single (Natural Elements Records, 2012)
Encantado (Natural Elements Records, 2015)
Guitare Mystique (Natural Elements Records, 2017)
Valley of Kings (Remastered) - Single (Natural Elements Records, 2020)
Temple of the Sun (Remastered) - Single (Natural Elements Records, 2020)
Costa Brava - Single (Natural Elements Records, 2020)
Cielo Mediterraneo - Single (Natural Elements Records, 2021)
One Quiet Night (2021 Version) - Single (Natural Elements Records, 2021)
Arctic Skies - Single (Natural Elements Records, 2021)
Amazonia - Single (Natural Elements Records, 2021)
Chase Across Iberia - Single (Natural Elements Records, 2021)
Elysium - Single (Natural Elements Records, 2021)
Summer Stories - Single (Natural Elements Records, 2021)
Elevate - Single (Natural Elements Records, 2021)
La Selva Negra (Exotica Remix) - Single (Natural Elements Records, 2021)
The Mystic's Dream (Fantasy Remix) - Single (Natural Elements Records, 2021)
Terra Bella (Exotica Remix) - Single (Natural Elements Records, 2022)
JIM STUBBLEFIELD GROUP:
Rhythm of the Heart (Natural Elements Records, 1998)
Rhythm of the Heart - Remastered - Live - Single (Natural Elements Records, 2021)
Concierto de Aranjuez: II. Adagio (Remastered) -  Single (Natural Elements Records, 2021)
STUBBLEFIELD & HANSEN:
Guitar Duets Live, Vol. 1 - EP (Natural Elements Records, 2019)
Michelle (Live) - Single  (Natural Elements Records, 2020)
INCENDIO: 
Misterioso (Natural Elements Records, 2000) 
Illumination (Paras Recordings, 2001) 
Intimo (Incendio Music, 2003) 
Incendio (New World Music, 2003) 
Dia y Noche (Incendio Music, 2005) 
Dia y Noche (Incendio Music, 2005) DVD 
Seduction (New World Music, 2006) 
Vihuela (Incendio Music, 2009)
The Shape of Dreams (Incendio Music, 2013) 
O Night Divine (Incendio Music, 2015)
Summoning the Muse (Incendio Music, 2019)
STRING ODYSSEY: 
Big Log - Single  (Natural Elements Records, 2020)
Dust in the Wind - Single  (Natural Elements Records, 2021)
Solsbury Hill - Single  (Natural Elements Records, 2021)
Riviera Highway - Single  (Natural Elements Records, 2022)
Teardrop - Single  (Natural Elements Records, 2023)
DRAGON MAELSTROM: 
Rise of Dragons - Single  (Natural Elements Records, 2022)
GUEST APPEARANCES:
David Correa - New Moon (BajaTSR, 2015) 
Eric Hansen - Glistening (Hansenhaus, 2016) 
Mark Barnwell - Mandala (Axe Calibre, 2016)
Guitarra Azul - Café Bolero (2020)
Ben Woods - Rumba Collab 1 (2020)
COMPILATIONS: 
Natural Elements Sampler, Volume 1 (Natural Elements Records, 1994) 
Pure Flamenco: Nuevo Flamenco Passion (Neurodisc, 1998) 
The Voice of the Guitar (Natural Elements Records, 1998)
Spanish Fire (Opus 1, 2003)
Guitar Greats, Volume III (BajaTSR, 2013) 
MISC:
411 Around the World (411 Video Magazine) DVD 
411 VM Issue #49 (411 Video Magazine) DVD 
411 VM Issue #50 (411 Video Magazine) DVD 
411 VM Issue #53 (411 Video Magazine) DVD 
Girls Rip "a new era in women's surfing" (2005) DVD
Casa Music Presents: 32/The Best Part 15